BMW India models and prices
All models of BMW cars in India with price and specifications are given below. For convenience we have clickable links just below, to take you directly to the specs and price of the any BMW car model in India you click on.
This page is an old version from 2016. Will be updated soon.
BMW India has its headquarters in Gurgaon near New Delhi. BMW India is 100% owned by the BMW Group in Germany. The Indian factory of BMW is in Chennai, which officially started production in India on the 29th March 2007.
Starting price of BMW cars in India
In india BMW car price starts from about Rs. 23 lakhs for the cheapest BMW model in India. We have provided below the starting price of all models of BMW cars in India. These prices should only be used as an approximate guideline, since luxury cars in India are heavily taxed and the tax rates keep changing without warning.
Cheapest new BMW car in India
Please find below a list of all BMW Cars starting from the cheapest new BMW car in India. All BMW cars and BMW SUVs available in India are listed here complete with price, specifications and a small image of the car.
BMW 1 Series prices and specs in India
BMW Series-1 Station Wagon
Starting price of BMW 1 Series in India
Petrol: From ₹22,65,000-
Diesel: From ₹29,84,000-
CNG: Not Available
BMW 1 Series Engine options:

Petrol 1598cc 4 cyl 134 HP or Diesel 1995cc 140 HP

Dimensions in Meters:

Length=4.324, Width=1.421, Height=1.419

BMW 1 Series Fuel Economy Km per Litre:

Petrol 16.28 or Diesel 20.58

BMW 1 Series Speed Acceleration 0 to 100 KPH seconds:

Petrol 8.81 or Diesel 20.58

BMW 1 Series Tyre Size:

205/55 R16 or 225/45 R17

BMW 1 Series Turning circle Diameter in Meters:

10.9

Kerb Weight in Kg:

Petrol 1310 or Diesel 1345

BMW Indian Website for 1 Series:

New BMW Series-1 review on Youtube:

New BMW Series-1 review on Team BHP forum:
BMW 3 Series price in India
BMW Series-3 Sedan
Starting price of BMW 3 Series in India
Petrol: From ₹48,27,000-
Diesel: From ₹39,99,000-
CNG: Not Available
BMW 3 Series Engine options:

Petrol 1997cc 4 cyl 241 HP or Diesel 1995cc 181 HP

Dimensions in Meters:

Length=4.624, Width=1.811, Height=1.429

BMW 3 Series Fuel Economy Km per Litre:

Petrol 14.79 or Diesel 18.88

BMW 3 Series Speed Acceleration 0 to 100 KPH seconds:

Petrol 6.4 or Diesel 7.83

BMW 3 Series Tyre Size:

225/45 R18 or 225/50 R17

BMW 3 Series Turning circle Diameter in Meters:

11.3

Kerb Weight in Kg:

Petrol 1420 or Diesel 1430

BMW Indian Website for 3 Series:

New BMW 3 Series review on Youtube:

New BMW 3 Series review on Team BHP forum:
BMW 5 Series Sedan price and specs in India
BMW 5 Series Sedan
Starting price of BMW 5 Series in India
Petrol: Not Available
Diesel: From ₹54,55,000-
CNG: Not Available
BMW 5 Series Engine options:

Diesel 1995cc 181 HP or 2993cc 6cyl 255 HP

Dimensions in Meters:

Length=4.899, Width=1.860, Height=1.456

BMW 5 Series Fuel Economy Km per Litre:

Diesel 18.48 (4cyl) or 16.20 (6cyl)

BMW 5 Series Speed Acceleration 0 to 100 KPH seconds:

Diesel 9.09 (4cyl) or 6.11 (6cyl)

BMW 5 Series Tyre Size:

225/55 R17 or 245/45 R18

BMW 5 Series Turning circle Diameter in Meters:

11.4

Kerb Weight in Kg:

Petrol 1795 or Diesel 1870

BMW 5 Series Indian Website:

New BMW 5 Series review on Youtube:

New BMW 5 Series review on Team BHP forum:
Indian price of BMW 7 Series with specs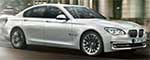 BMW 7 Series Cars
Starting price of BMW 7 Series in India
Petrol: From ₹1,40,00,000- (1.4 crores)
Diesel: From ₹1,12,00,000- (1.12 crores)
CNG: Not Available
BMW 7 Series Engine options:

Petrol 4395cc V8 8 cyl 450 HP or 5972cc V12, 12 cyl 544 HP or Diesel 2993cc 255 HP

Dimensions in Meters:

Length=5.212, Width=1.902, Height=1.478

BMW 7 Series Fuel Economy Km per Litre:

Petrol 8.8 (V8) or 7.69 (V12) or Diesel 14.49

BMW 7 Series Speed Acceleration 0 to 100 KPH seconds:

Petrol---; Diesel 6.90

BMW 7 Series Tyre Size:

275/45 R19

BMW 7 Series Turning circle Diameter in Meters:

12.7

Kerb Weight in Kg:

Petrol 1980 (V12) or Diesel 1720

BMW 7 Series Indian Website:

New BMW Series-7 review on Youtube:

New BMW Series-7 review on Team BHP forum:
BMW X1 SUV India price and specs
BMW SUV X1
Starting price of BMW X1 SUV in India
Petrol: Not Available
Diesel: From ₹35,90,000-
CNG: Not Available
BMW X1 Engine options:

Diesel 1995cc 4 cyl. 181 HP

Dimensions in Meters:

Length=4.454, Width=1.798, Height=1.545

BMW X1 Fuel Economy Km per Litre:

Diesel 17.2

BMW X1 Speed Acceleration 0 to 100 KPH seconds:

8.25

BMW X1 Tyre Size:

225/50 R17

BMW X1 Turning circle Diameter in Meters:

11.3

Kerb Weight in Kg:

Diesel 1500

BMW X1 Indian Website:

New BMW X1 SUV review on Youtube:

New BMW X1 SUV review on Team BHP forum:
BMW X3 SUV India price and specs
BMW SUV X3
Starting price of BMW X3 SUV in India
Petrol: Not Available
Diesel: From ₹52,32,000-
CNG: Not Available
BMW X3 Engine options:

Diesel 1995cc 4cyl 184 HP or 2993cc 6cyl 258HP

BMW X3 Dimensions in Meters:

Length=4.648, Width=1.881, Height=1.661

BMW X3 Fuel Economy Km per Litre:

Diesel 16.09 (4cyl) 15.5 (6cyl)

BMW X3 Speed Acceleration 0 to 100 KPH seconds:

Diesel 9.28 (4cyl) or 6.42 (6cyl)

BMW X3 Tyre Size:

225/60 R17

BMW X3 Turning circle Diameter in Meters:

11.9

BMW X3 Kerb Weight in Kg:

Diesel 1715

BMW X3 Indian Website:

New BMW X3 SUV review on Youtube:

New BMW X3 SUV review on Team BHP forum:
BMW X5 price and specification in India
BMW SUV X5
Starting price of BMW X5 SUV in India
Petrol: Not Available
Diesel: From ₹75,53,000-
CNG: Not Available
BMW X5 Engine options:

Diesel 2993 cc 6 cyl 255 HP

Dimensions in Meters:

Length=4.886, Width=1.938, Height=1.762

BMW X5 Fuel Economy Km per Litre:

Diesel 15.35 (6cyl)

BMW X5 Speed Acceleration 0 to 100 KPH seconds:

7.05 (6cyl)

BMW X5 Tyre Size:

275/40 R20 (front) and 315/35 R20 (rear)

BMW X5 Turning circle Diameter in Meters:

12.8

Kerb Weight in Kg:

Diesel 2075

BMW X5 Indian Website:

New BMW X5 SUV review on Youtube:

New BMW X5 SUV review on Team BHP forum:
BMW Z4 price and specification in India
BMW Z4 Roadster Convertible
Starting price of BMW Z4 in India
Petrol: From ₹71,90,000-
Diesel: Not Available
CNG: Not Available
BMW Z4 Engine options:

Petrol 1368cc 4 cyl 90 HP or Diesel 1248 cc 4 cyl 93 HPPetrol

Dimensions in Meters:

Length 3.989, Width=1.706, Height=1.542

BMW Z4 Wheelbase and Ground clearance in mm:

2510 and 205

BMW Z4 Fuel Economy Km per Litre:

Petrol 14.4 or Diesel 20.5

BMW Z4 Automatic Gear available?

No

BMW Z4 Speed Acceleration 0 to 100 KPH seconds:

4.6 (V8) or 3.9 (V10)

BMW Z4 Turning circle Diameter in Meters:

---

Kerb Weight in Kg.:

Petrol 1190 or Diesel 1240

BMW Z4 Tyre Size:

Size: 205/55 R16

New BMW Z4 Indian website:

New BMW Z4 review on Youtube:

New BMW Z4 review on Team BHP forum: