Range Rover models and prices in India
Please find below all new Range Rover models and prices in India. For convenience we have clickable links just below here, to take you directly to the specs and starting price of the base model of the new Range Rover SUV model in India you click on.
This page is an old version from 2016. Will be updated soon.
Range Rover top model price in India with specifications
The top of the range Range Rover comes in 4 versions HSE, Vogue, Vogue SE and Autobiography. The Range Rover HSE and Vogue both have 3.0 litre Diesel engines, the model Range Rover Vogue SE has a 4.4 litre Diesel engine and the topmost Range Rover model called 'Autobiography' has the choice of either the 4.4 litre diesel engine or a 5 litre V8 petrol engine delivering over 500 horse power.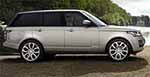 Range Rover Top of the line
Range Rover top model price
Petrol: From ₹3,00,00,000- (3 crores)
Diesel: From ₹1,85,00,000- (1.85 crores)
CNG: Not Available
Range Rover Engine options:

Diesel 2993 cc (3L), V6, 6 cyl, 244 HP or Diesel 4.4 liter V8 8cyl 335 HP or Petrol 4999 cc (5L), V8 8 cyl, 503 HP

Dimensions in Meters:

Length 4.972, Width=2.034, Height=1.877

Wheelbase and Range Rover Ground clearance in mm:

2922 and 225 to 275

Range Rover Fuel Economy Km per Litre:

---

Range Rover Automatic Gear available?

Yes

Range Rover Speed Acceleration 0 to 100 KPH seconds:

Diesel 7.9 (3L), 6.9 (4.4L ) or Petrol 5.4 (5L)

Range Rover Turning circle Diameter in Meters:

12.3

Kerb Weight in Kg:

2687

Range Rover Tyre Size:

Size: 275/45 R20

Range Rover Indian website:

Range Rover Autobiography review on Youtube:

Range Rover SUV review on Team BHP forum:
Range Rover Evoque top model price in India with specifications
The Range Rover Evoque comes in three models called the Range Rover Evoque Pure, the Evoque Prestige and the Evoque Dynamic. All three models of the Range Rover Evoque, Pure, Prestige and Dynamic have the same capacity 2.2 litre, 184 horse power Diesel Engines.
Range Rover Evoque
Range Rover Evoque basic model price
Petrol: From ₹78,00,000-
Diesel: From ₹64,00,000-
CNG: Not Available
Range Rover Evoque Engine options:

Diesel 2179 cc, 4 cyl, 187.7 HP

Dimensions in Meters:

Length 4.355, Width=1.965, Height=1.605

Wheelbase and Range Rover Evoque Ground clearance in mm:

2660 and 210

Range Rover Evoque Fuel Economy Km per Litre:

10.1

Range Rover Evoque Automatic Gear available?

Yes

Range Rover Evoque Speed Acceleration 0 to 100 KPH seconds:

9.91

Range Rover Evoque Turning circle Diameter in Meters:

11.3

Kerb Weight in Kg:

1675

Range Rover Evoque Tyre Size:

Size: 235/60 R18

Range Rover Evoque Indian website:

Range Rover Evoque review on Youtube BBC TopGear:

Range Rover Evoque review on Team BHP forum:
Range Rover Sports base model price in India with specs
The Range Rover Sport is a more compact version of the full sized Range Rover and comes in sub-models: S, SE, HSE, Autobiography and SVR. The Range Rover Sport Autobigraphy will have smaller body dimensions than the full sized Range Rover, which is just called Range Rover Autobiography
Range Rover Sport
Starting price Range Rover Sports
Petrol: From ₹1,88,000- (1.88 crores)
Diesel: From ₹1,28,00,000- (1.28 crores)
CNG: Not Available
Range Rover Sports Engine options:

Diesel 2993 cc (3L), V6, 6 cyl, 244 HP or Petrol 4999 cc (5L), V8 8 cyl, 503 HP

Dimensions in Meters:

Length 4.850, Width=1.983, Height=1.780

Wheelbase and Range Rover Sports Ground clearance in mm:

2923 and 225

Range Rover Sports Fuel Economy Km per Litre:

---

Automatic Gear available?

Yes

Speed Acceleration 0 to 100 KPH seconds:

Diesel 7.2 (3L) or Petrol 5.3 (5L)

Range Rover Sports Turning circle Diameter in Meters:

12.1

Kerb Weight in Kg:

2572

Range Rover Sports Tyre Size:

Size: 235/70 R19

Range Rover Sport Indian website:

Range Rover Sport review on Youtube:

Range Rover Sport review on Team BHP forum:
Land Rover Discovery India price and specs
LandRover Discovery
Starting price Land Rover Discovery
Petrol: Not Available
Diesel: From ₹1,20,00,000- (1.2 crores)
CNG: Not Available
Engine options:

Diesel 2993 cc, V6, 6 cyl, 244 HP

Dimensions in Meters:

Length 4.838, Width=2.167, Height=1.837

Wheelbase and Ground clearance in mm:

2885 and 209

Fuel Economy Km per Litre:

11.36

Automatic Gear available?

Yes

Speed Acceleration 0 to 100 KPH seconds:

9.3

Turning circle Diameter in Meters:

11.45

Kerb Weight in Kg:

2718

Tyre Size:

Size: 235/70 R19

Land Rover Discovery SUV Indian website:

Land Rover Discovery SUV review on Youtube:

Land Rover Discovery SUV review on Team BHP forum:
Specs and prices of Land Rover Freelander 2 in India
FreeLander-2
Starting price Land Rover FreeLander-2
Petrol: Not Available
Diesel: From ₹46,00,000-
CNG: Not Available
Engine options:

Diesel 2179 cc, 4 cyl, 148 HP or 2179 cc, 4 cyl, turbo-charged, 187 HP

Dimensions in Meters:

Length 4.500, Width=2.195, Height=1.740

Wheelbase and Ground clearance in mm:

2660 and 210

Fuel Economy Km per Litre:

12.35 for 187 HP model

Automatic Gear available?

Yes

Speed Acceleration 0 to 100 KPH seconds:

11.2 (148HP) or 9.92 (187HP)

Turning circle Diameter in Meters:

11.4

Kerb Weight in Kg:

1880

Tyre Size:

Size: 235/65 R17

Land Rover Freelander-2 SUV Indian website:

Land Rover Freelander-2 SUV review on Youtube:

Land Rover Freelander-2 SUV review on Team BHP forum: