Audi car company history
Audi is one of the oldest car companies in the world founded in Germany. Audi cars were unique from the very early days, they were the first company in the world to make their cars with light weight aluminium parts. The photo you see below is the earliest car in the world (1913) to have aluminium body parts.
Audi is a German Car manufacturing Company founded by August Horch. Though August Horch made his first car in 1901, he started Audi Company in 1909. 'Audi' is the translation of his German name "Horch" which means to "listen!" into the Latin "Audi".
Audi is famous for it Aluminium body cars today. But this unique tradition of light weight Aluminium car body construction was pioneered by Audi, way back in 1913. To quote from the Audi UK website:
First aluminium car body: In 1994 the Audi A8 and its Audi Space Frame (ASF) concept established a new landmark in automobile manufacturing.
In 2000 Audi launched the A2, the first aluminium high-volume car model to reach the market.
But it was back in 1913 when Audi (NSU at the time) produced its first 8/24 car with a body entirely made of aluminium (picture above). This pioneering innovation laid the foundations for a long standing commitment to lightweight construction.
Origin of the 4 ring Audi emblem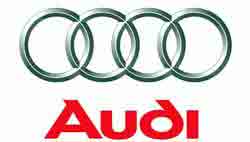 August Horch registered the Company "AUDI Automobilwerke GmbH" in 1910. Due to the 1st world war defeat of Germany, Audi had a tough time for survival and Audi had to form a union with three other auto companies DKW, HORCH and WANDERER in 1931. The union of these four companies is what makes the Audi of today. The 4 rings in the emblem of Audi shown here, represents the union of the 4 Companies DKW, HORCH, WANDERER and Audi.
Audi car company in India history
Audi has been selling their cars in India from 2004. In March 2007 Audi registered its Company in India. Audi has a factory in Aurangabad, India and is assembling the Audi A4, Audi A6, Audi Q3, Audi Q5 and Audi Q7 there.